Join MIT Sloan Alumni Online this season for a series of interviews with principled, innovative leaders who improve the world. Jackie Selby, EMBA '21, hosts a conversation with Karl Strovink, MBA '01, on Leading in Uncertain Times.
Karl Strovink is the CEO of Blue Bottle Coffee.
Strovink began his tenure at Blue Bottle in the role of COO and President, North America. A Berkeley native, in 2019 he returned to the Bay Area after spending 12 years at Converse in leadership roles including Vice President, Global Retail, Vice President, Corporate Strategy, General Manager, Direct to Consumer North America, and General Manager, Canada. During his time with the organization, Strovink led many of the critical brand and product strategies over the past decade and was instrumental in evolving Converse towards a Direct to Consumer focused business. Prior to his time at Converse, Strovink spent 7 years and was a Principal with the Boston Consulting Group.
A graduate of Vassar College and MIT's Sloan School of Management, Strovink grew up in Berkeley and has lived in Montreal, New York City, London and Boston. He currently lives in the San Francisco Bay Area.
Speakers:
Moderator and Host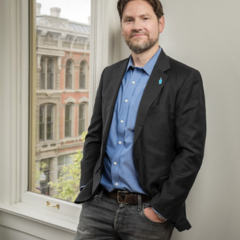 CEO, Blue Bottle Coffe